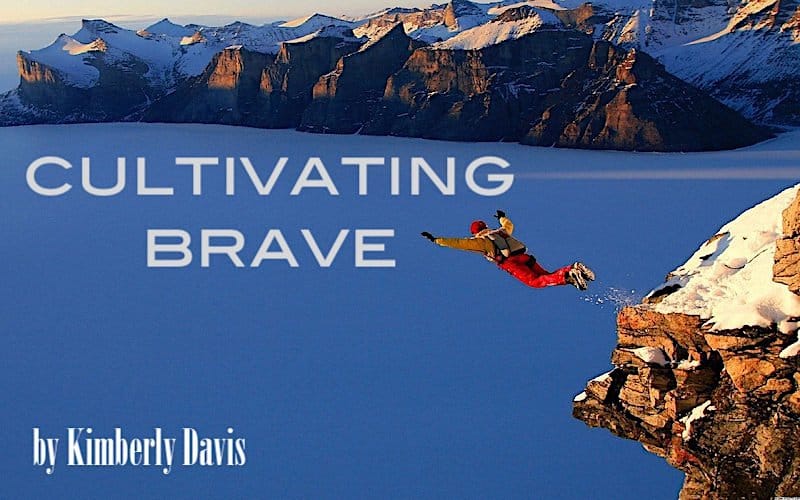 I remember when my kiddo graduated from the 5th grade; it felt like a huge rite of passage for him. All of our town's 10- and 11-year-olds dressed in their best for the big "graduation ceremony." I initially thought the idea of "graduating" from the 5th grade was a little strange, but it was something our village had done for decades so we just rolled with it. They talked about what they wanted to be when they grew up (a "Lego Master Builder") as we parents took pictures and envisioned their futures. I remember having but one hope; that he would be brave.
I guess it's all in how you define it, isn't it? The dictionary defines "brave" as "ready to face and endure danger or pain" (and I certainly don't want him to leap into danger or pain!), it then continues with, "…; showing courage."
Courage
A noun; defined as "the ability to do something that frightens one" or "strength in the face of pain or grief."
Danger. Pain. Fear. Grief.
In the midst of a global pandemic, systemic inequities, and nationwide protests this sounds a lot like the laundry list of emotions plaguing our world right now. Danger. Pain. Fear. Grief.
The world my son will inherit.
The world that will demand that he is brave. That he shows courage.
But it seems to me, our traditional definitions fall short. In such a complex world, being brave and showing courage is not enough. For in an attempt to rally the troops, we repel others. When we right wrongs, we can be hurtful. As we stand up for what we believe, we turn into someone we're not.
I'm a pretty passionate creature. I've been known to fight mightily for what I believe. I think back to heated conversations in which I've shape-shifted into some possessed, all-knowing, crazy-woman; hyped up on adrenaline, I'd unleash my un-checked emotions, spewing self-righteousness, disdain, and disrespect, like a firehose.
When I hoped to influence, I alienated.
I am better than that.
When my son does something that doesn't reflect his best self, I tell him, "You are better than that." I don't mean "better" in comparison to someone else, I mean "better" in comparison to who he is.
We are all better than that.
But, as humans, better doesn't come easy. Our best intentions get derailed pretty quickly in the heat of moment. When someone else's better is clearly not in the room, we tend to sink to the least common denominator and things get ugly fast. We forget ourselves. We forget that we're better than that.
All of us.
It's not enough to be ready to face and endure danger or pain. It's not enough to be courageous. We need definitions to support that we are better than that.
What is brave? "Brave" is being your best, most authentic self, powerfully, in this world.
Which forces us to be better.
Your best…
What does your "best self" look like? When you're at your best, how do you behave? How do you sound? What actions do you take?
I know when I'm my "best self" I'm not disrespectful or unkind; I'm not blaming others or showing contempt. My best self, however illusive she might be, is more patient, curious, caring, positive, constructive, articulate and hopeful. If being brave is anchored in my best self, it forces me to take responsibility.
…most authentic…
There's been a lot of talk the past few years about authenticity. Many people think that being authentic is simply permission to act however you want, without caring about anyone else, but from a leadership and influence perspective, that falls short. It's critical it is to look at how we define authenticity.
My favorite definition of authenticity is borrowed from Harvard Business School professor, Bill George (former CEO for Medtronic and author of Authentic Leadership). George doesn't look at authenticity as being whoever you want to be, throwing caution and filters out the window for personal gain, but rather defines it as: "genuine, worthy of trust, reliance, and belief."
Which is lovely and wonderful, but much more complex that it sounds. For who gets to decide? Who gets to decide if you're genuine, worthy of trust, reliance, and belief?
Not you.
What I love about George's definition is that it requires us to pay attention to the impact we are having on others; to recognize that all people have different needs. If my definition of "brave" is set in a foundation of authenticity, it forces me to pay attention to whether or not the people around me experience me as authentic; to think about the impact I have outside myself. It gives me a chance to get back on track. To be better.
…and powerful self.
When I talk about power, I refer to one's intrinsic ability to influence, it doesn't come from position or title, it's rooted in self-efficacy, self-belief, and your ability to navigate the impact you have on others. When we react or take action that is incongruent with who we are and what we believe, we feel it. Even if we have a host of reasons to excuse our behavior, reasons do not alter facts. When we behave in a way that is not our best we know it. We cannot hide from ourselves. We dissipate our power and lose the ability to truly connect and therefore influence.
To be your best, most authentic and powerful self requires relentless responsibility.
There are days when you'll mess up mightily (goodness knows I make it routine!), but imagine what our world would be like if, instead of focusing our attention on all of the things that we can't control, we each took ownership of being better.
Because we are.
We just need to be brave enough to do something about it.
©A Thoughtful Company, LLC