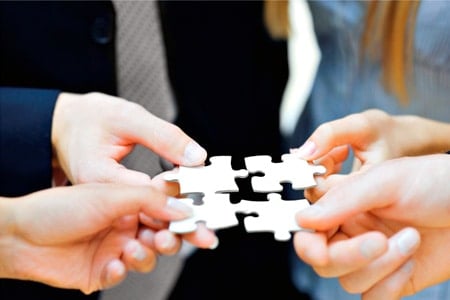 Businesses need to operate smartly in order to survive in the highly competitive commercial landscape. The first step towards achieving this is by increasing their productivity.
A lot of time is spent on processing emails, meeting people and tracking the goings-on inside the organization. We may not realize the amount of time we waste in such unproductive chores. This is especially true for software companies, where people from various departments need to work together to build an application.
The easiest way to combat this issue is by improving the level of collaboration. The answer lies in unified communications that can help organizations improve collaboration and enable better use of time.
As a software company, you are probably already aware of the importance of integrating technology in the early phases of planning and strategy building. This helps connect people, services, and devices across the organization. By leveraging various technologies, you can create higher ROI, free your time for more strategic work, and help your developers and technicians become more productive.
Let us explore how you can improve collaborative within your organization.
4 Tips for Improved Collaboration
The modern business environment is extremely complicated with intricate work processes, inputs of different specialists, and the need to deliver products (whether a mobile app or custom-made software) on time. Hence, it has become important for leaders to connect their teams and bridge the gaps that divide them.
Here are four tips that will help leaders in the software industry build a collaborative workplace to ensure higher productivity and hence, more ROI:
Improve Communication
With an increasing number of employees working remotely, communication between colleagues has become a challenge. Moreover, the modern-day employee believes face-to-face meetings are a waste of time. Hence, leveraging collaborative technologies to improve communication between employees has become crucial.
Collaboration between teams within the physical workplace is also important. Developing team-building activities and employing reward systems can improve collaboration and make employees more responsible. According to a survey by Lifesize, '90 percent respondents agree video makes it easier to get their point across.' The same survey reveals, '89 percent of remote employees say that video helps them feel more connected to their colleagues.'
The latest collaboration technologies enable employees to connect with the workplace with a simple and secure login and work efficiently. With tougher delivery deadlines and decreased tolerance for application errors, improving productivity and efficiency within the organization has become critical and this can only be achieved if the workplace is effectively collaborative.
Have a Collaboration Strategy for Every Team
With the advent of advanced collaboration tools, it has become easier for teams to work in partnerships among themselves and with other teams.
For instance, tools like Trello, Slack and Google Drive can help marketing team members collaborate among themselves. These tools keep every team member on the same page. They can be accessed from any device; and most importantly, they make communication easier. But for a software company, collaboration between the development and the operations teams is crucial. This is where DevOps comes into the scene.
As the name suggests, DevOps is a set of practices that aid collaboration and communication between the development (Dev)and operations (Ops) teams (according to Wikipedia). It helps you improve the productivity and efficiency of the workplace, thereby simplifying the processes of building, testing, and releasing software. The implementation of DevOps also leads to faster marketing, happier clients, and better channelization of teams' potential.
Train Your Employees
Regardless of the kind of collaboration tools you integrate into your business processes, they will be of no good use if your employees fail to leverage them optimally. It is important for companies to provide appropriate and adequate training to employees to improve the skill and level of collaboration.
Integration of new and advanced tools can disrupt work processes to a certain degree, which can give rise to feelings of resentment among employees. By providing appropriate training, however, you can help them adjust to the new work environment and become more productive. It is also important to keep them aware of the changes you are going to implement so that they are prepared to adapt accordingly.
Improve External Collaboration
A number of companies partner with other organizations to enhance a specific area of expertise and serve their customers better. While strategic partnerships need to be designed carefully for long-term success, collaboration is another important aspect to be considered. This is because the strategic partner may be located in another city/state/country, making face-to-face meetings difficult. Video conferencing can prove to be helpful for organizations in such situations. Tools like ClickMeeting, Zoho Meeting, and others can be beneficial.
Another important aspect of external collaboration is customer-business collaboration. The flawless flow of information from customers to the company's staff ensures better customer service, improved products/ services, and rapid growth of the organization. Customer collaboration can be leveraged via social media, video collaboration, Web-based applications, and Customer Relationship Management (CRM) software.
The biggest factor that contributes towards the success of an organization is the ability of its employees to work in unison. With increasing competition, it has become crucial for businesses to promote a collaborative workplace to ensure improved productivity and healthy employee relationships. Further, collaboration increases accountability and motivation among employees.
Conclusion
It is important for an organization's teams to work cohesively to ensure faster development and quicker delivery of products/services. With changing work habits, it has become important for organizations to encourage collaboration not only among team members, but also between various teams to ensure business efficiency.
Traditional collaboration methods are time-intensive and ineffective in modern business scenarios. Advanced collaboration tools have made it easier for organizations to encourage inter and intra organization collaboration. Businesses must evaluate their options and leverage modern and advanced collaboration methods to promote a productive and efficient work environment. By considering the above tips, you can build a collaborative workplace and improve the overall productivity and efficiency of your business.