Featured
Contributors GUIDE
Whether you're a PROSPECTIVE Contributor, a NEW Contributor, or an EXISTING Contributor seeking a refresher, you've come to the right place as we provide both answers & insights that matter, starting with the button below.
Unlike most websites and publications, we free you from all the time-consuming roadblocks, rules, and bureaucracy. In other words, we free you to simply WRITE. About life. About culture. About business. About whatever inspires you. Check out our Editorial Guidelines. So long as it's timeless (evergreen) and not promotional (including links), it can be an article, a podcast, a poem, or a video, even if it's been published somewhere else before. We don't care whether it takes 100 words or 2,000 words to tell your story. We don't care if you write once per week, once per month, or once per year – we want you to write when you are inspired to do so. Period. And when that inspiration surfaces,  just send it over via [email protected] as a Word or Google Doc SINGLE Spaced, with a double space between paragraphs. No images please, as we'll grab the best one available from our proprietary media library. Or if you've published it somewhere else already, just send us the link). If it's a video (YouTube or Vimeo) or a podcast, make sure you include a title and an intro paragraph. We do the rest. We style. We edit for grammar & punctuation. We grab a great featured image. We schedule. We publish. We send you a link to confirm we've published. We share & syndicate across the universe. As your audience engages, we send you their comments so you can engage.
Quick Tip: For increased engagement, always begin with (the Title) and end your Article with a Question.
Send us as much as you wish as often as you wish, as we publish on a first-in/first-out sequential basis, as categorized below:
PEAK PUBLISHING Brand New Articles are always given top weekday publishing priority as our thanks for the opportunity to publish first, with a max of one released per week.
FLEX PUBLISHING Syndicated/republished articles are released as frequently as possible based on overall volume.
Quick Tip: We've gathered a whole bunch of great (free) tools that may be helpful in polishing each of your original articles destined for release by us. Take advantage by clicking on the link below.
Unlike all other publishers who publish and walk away, we go the extra mile and share because we care. So please keep in mind that we invest extra time in showcasing your work, expecting that you will do the same as part of a genuine team approach. We begin by sharing your article across dozens of our social media communities. Then we hand the baton to you to share across your social media communities. And if you "tag" us on LinkedIn, Facebook or Twitter, we'll do our very best to respond in kind with a "like" or further comments to further showcase your work. Tagging is entirely at our discretion and is typically limited to; introducing a brand new Contributor as a means of welcoming them to our communities, and; occasionally alerting our audience to something special/noteworthy (a new event, a topical article, etc.).
We encourage you add Featured Contributor,  BIZCATALYST 360° to the "Experience" Section of your LinkedIn Profile, which will automatically link to our Company Page, enhancing your credentials as a member of our award-winning Site. For guidance, see this YouTube Video. And please follow us EVERYWHERE so you can be alerted to all that we publish.
Quick Tip: Don't miss all that we share on LinkedIn. Simply connect with our Editor first and then click on the BELL on his Profile (see below) to receive a notification when we share something new!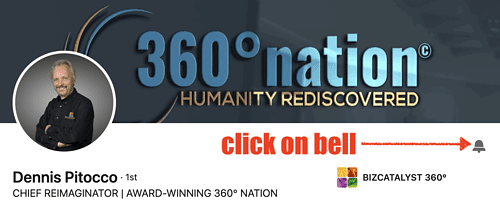 Another team effort here. Your focus should not be on how many people "viewed" your article but on how many conversations you've inspired —which leads to expanding readership and expanding relationships. This is why you won't find a #views counter anywhere on our Site, as the best gauge of audience interest is not the number of views, but rather the number of quality comments. WE send you comments received on our Site, on LinkedIn, and on Facebook — passing the baton over to YOU to engage in good old-fashioned adult conversations, replacing "likes" with real curiosity, real connection, real relational diplomacy. To enhance your visibility on our Site, always log in before responding to a comment. And don't forget to check that pesky little box down below if you'd like to receive follow-up comments.
Quick Tip: Never miss an opportunity to engage with your audience, and always dig deeper with rich conversation, probing, and questions to inspire an expanded discussion.
Thanks to you folks, our publishing volume continues to increase, as does our sharing across the universe. However; this creates a challenge for our loyal followers who despite their intent, simply can't keep up with reading it all, but don't want to miss anything. Inspired by the challenge, we've created the opportunity for folks to now receive a daily recap each evening, within which is a list of all articles published, allowing for reading whenever time permits. Grab your daily dose by clicking below ⤵︎
WHAT ABOUT UPDATING YOUR BIO?
We do it all. Whenever you need your Featured Contributor Biography, Head Shot, or social media channels updated, simply send your update to us via [email protected] and we'll take care of it pronto!
Quick tip: do keep your credentials current. Published a book? Add it to your Bio (with a link). Started a Podcast? Add it to your Bio (with a link). Joined a new social media channel? Add it to your Bio. Got a new Head Shot? Send it over!
So much to share with you – where to begin? While we always recommend that you take a stroll across our entire Site, please start by taking a stroll through these hidden gems ⤵︎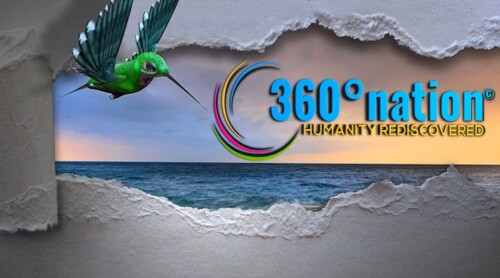 We need a renaissance of wonder. We need to renew in our hearts, and in our souls the perennial sense of belonging, compassion, and kindness. We believe it's time for a paradigm shift – pivoting from where we are to where many wish to be. A thriving "conscious community" where people are bound together by choice, founded upon a universal good-faith commitment to listen, understand, respect, empathize with, and support one another. A place for giving and receiving without judgment. An authentic, fresh, uplifting exercise in relational diplomacy – recognizing that the relationship between people of diverse backgrounds and expertise is the foundational building block for uniting the world. Rich, adult conversations. Thoughtful engagement. Real relationships. Humanity at its very best. 
Quick Tip: Grab your seat on Our Friendship Bench for a unique opportunity to meet real people sharing real stories –each of us rediscovering "humanity at its very best" in a live, interactive environment every Thursday.