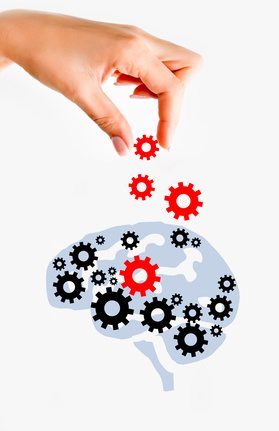 [su_dropcap style="flat"]O[/su_dropcap]UR RECALL IS essential to success in life especially our business success. What if you could give your thought process a boost? These 3 Nutrition Tips to Improve your Memory offer that lift.
Imagine a new client coming in. They're referred by a client you worked with a year back for a short time. A quick memory of their friend can build a long-term connection and reinforce an inactive client's return to your company.
Likely you've not thought about using food or nutrition to stir the mental juices much. Unless you've sought out the assistance of an Alternative Medicine provider or health mentor, this may have never crossed your mind. Usually, memory changes are noticeable unless you start losing your car keys while running errands 3 times in a month you have nothing serious. This doesn't mean dementia is on the horizon it may be a sign that you lack in brain food.
What Affects Your Memory Can Hurt Your Business Success
Your mental recall changes daily. One day you feel sharp and ready to bring up anything in your mental computer; the next not so great. The amount of sleep you had, the stress you're under, and yes what you ate and drank the day before or just hours ago all have an effect.
Physically high blood pressure can decrease memory and business success. The University of Pittsburgh[1] study showed that hypertension affects memory. Your cholesterol levels also play a part. Something seldom spoken about is high homocysteine levels and loss of intellectual function. This which is a natural amino acid your body makes. When you make too much, it has adverse effects on your wellbeing.
Aging also affects our memory and business success. My personal enhancement for keeping myself sharp is using brain games on my smart device daily. When I have stepped away from doing this regularly, my scores decrease and I must build my focus capacity back up especially in math! Most applications have a variety of areas to train your brain. It takes about 10- 15 minutes a day and well worth it.
Using 3 Nutrition Tips to Improve your Memory
Antioxidants – They don't just protect your heart or you from cancer they play a significant role in brain activity. Cruciferous vegetables like broccoli, cauliflower, daikon radishes, or kale can spark the memory. Anthocyanins or foods that appear red, purple, or blue depending on the pH of their skin can reverse and prevent memory loss. These are blackberries, currants, eggplant, red wine even apples.
Quercetin is helpful too. A flavone [pigment] found in many fruits, vegetables, leaves and grains reduces allergic responses or increase immunity by reducing inflammation[2]. This allows your body to continue supporting a healthy mind rather that combat disease or allergies.
Folic Acid And Other B Vitamins – They call Folic Acid the magic bullet for fixing memory problems. You want to be sure you work with a licensed alternative health practitioner as they know the best dose, and will use folate rather than many of the health food store brands that say they do. Tufts University did a study of 320 men who had high levels of homocysteine. All showed a mental decline. When they ate foods rich in folic acid and other B vitamins the decline slowed and in some improved.
I can't emphasize the importance of not running to the grocery store or health food store and buying this vital nutrient group. Recently I had a patient who when we tested her methylation [a test that shows us how you absorb nutrients from food and supplements] she had a 65% deficiency and was dangerously low in B1, while low in Folic acid, B6, and B12.
Had she just taken an over-the-counter B vitamin she would not have felt better. Her exact dosing for the methylation issue needed to be addressed and accurate milligrams of each of these vitamins supplemented. Eating the right foods wouldn't be enough. More than ten cases per month are seen by my office. The testing and coaching all can be done virtually with the client never visiting our office.
Foods that support are fortified whole grains, lentils, black-eyed peas, and my favorite oatmeal. Spinach, artichokes, and strawberries include many B vitamins.
Omega 3 Fatty Acids – Omega 3 fall solidly on the side of good fats and are easy to find in fatty fish, many nuts, and seeds. Some foods, dairy, and eggs are also fortified with Omega 3. Rush University Medical Center in Chicago studied 3,000 people for 6 years. They found that people who ate fish less than once a week had a mental decline of 10% per year greater than those who ate more food of the sea. For those who have problems with fish or who don't eat it often enough taking this fatty acid is essential to cardiovascular and brain health.
The best fatty acids are found in wild salmon, herring, flaxseed, seaweed, and walnut oil.
The Avoid List For Memory and Business Success
Researchers in Toronto at the University studied a diet of donuts, hamburgers, potato chips, cheese, and ice cream for 3 months. These foods, not surprisingly clog the blood vessels that deliver critical nutrients to your brain. They also crowd out healthier foods in your diet.
These 3 Nutrition Tips to Improve, your Memory and Business Success, are a small start to getting your business focus back on track. Often clients share they can't seem to get clear and it's their diet that is hampering their mental cognition.
The first place to start is get tested. Visit with a Naturopath who does micronutrient testing and who also tests your homocysteine and methylation. If you have other symptoms, they may decide to exam your hormones and thyroid. Finding out what you need is less costly than spending money on supplements at the store. Once you know which of your favorite foods support your health and mind, eat them. Then take the nutrients needed, instead of wasting money you could spend… on vacation!
All images copyright Fotolia for the use of Dr. Debra Arko Novotny articles only
---
[1] Relationship of Hypertension, Blood Pressure, and Blood Pressure Control With White Matter Abnormalities in the Women's Health Initiative Memory Study (WHIMS)—MRI Trial.
[2] The role of quercetin, flavonols and flavones in modulating inflammatory cell function. http://www.ncbi.nlm.nih.gov/pubmed/20887269