For instance, … In Direction of PPDR Cycle
Traditional Habit Model (cf. Duhigg's Habit Model): Cue (Trigger) – Action – Reward
Nir Eyal's Habit Loop: Trigger (Cue) – Action – Reward – Investment
Opposite to PPDR Cycle
James Clear Trigger (Cue) – Craving – Action – Reward
@Harvey Lloyd offered a third perspective as the following figure shows: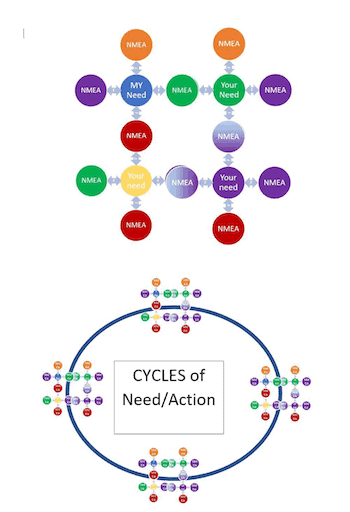 These illustrations are simple when compared to reality. We now realize that emotions may rise/fall exponentially and in turn, they cause our actions to raise/fall exponentially as well.
I give one example of the need for identity. With the loss of identity, we see the downward spiral mixing with the upward spiral of those people who keep the core of their identity.
@Harvey Lloyd was quick to react to this suggestion by commenting "Let's say that I wish to be a millionaire. This is what it means for me to self-actualize. The axioms across all the components comply with this end game. My psychology has attached to wealth as my own identity. My safety depends on money. What happens if I am successful and realize that you have two million dollars. I am poor again. The performance anxiety never goes away. You ask a great question and social scientists all think that they can metal with Maslow's pyramid and build a human better. But all they have to offer is material things that only create performance anxiety.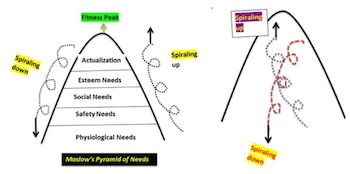 The disruption is cutting deep in our long-held understanding of needs leading to acting. SO much water to settle still remains.